Below are testimonials from my generous Thai language students.
LinkedIn
Some of the recommendations from my LinkedIn page explain how my teaching method using Skype voice chat and the interactive spreadsheet has worked effectively for each student's needs:
Martin Ciesko Ph.D.: A Language professor and an experienced learner of Thai language who wanted to improve speaking skill and be able to read Thai novels.

I have taken 20 Skype lessons with aajaan Narisa and i have only the highest respect for her both as a teacher and as a person. If you are really serious about learning Thai you should definitely try a lesson with her – you will get hooked. For both casual tourists and serious learners the advantages are too many:

1. She's a really sweet person and will put you at ease; if you are just a (post-)beginner, speaking Thai aloud can be stressful but talking to Narisa is fun. She is a professional – but also a very nice, patient person.

2. You get to learn spoken Thai as it is actually used by educated Bangkok speakers, not the stilted formal phrases one usually finds only in textbooks or in the mouths of foreigners. I often had to correct or unlearn what I picked up from a dictionary or textbooks because nobody says it like that in real life.
3. She uses a questionnaire to gauge your needs, your level of (and interest in) Thai and your goals. During each lesson you will be using google spreadsheets so that you can both see each other's work in real time and she has control over your work.

4. If she hears you say something questionable, she immediately writes it down in the spreadsheet with a systematic analysis, exact syntactical constructions, differences between words with similar meanings, new words with their meanings in English, etc. On the spot she comes up with creative sentences that exemplify the grammatical point under discussion.

5. Because I myself teach languages at a university (Latin and Greek), I can confirm that she is a language professional who clearly understands how grammar works and can explain it on the spot very clearly (not many Thais can successfully do that).

6. I like how she pushes her students forward, both trying to make us speak more or work on problematic points of pronunciation or grammar.

7. There is homework and you need to revise on your own after each lesson. Be prepared to spend some time studying! If you want, invest in learning how to type Thai beforehand – then you can work on writing /spelling with her as well. If not, she can use transliteration.

8. She comes up with idiomatic sentences that express exactly what I want to say in Thai. I would usually come prepared with a couple of personalised sentences that I wanted to see translated into natural Thai.

9. I often asked for book suggestions on Buddhism, Thai culture, Thai literature and she is really well-versed and very knowledgeable about her culture.

10. Her English is very good so she can explain things clearly and she understands the English nuances you want to express in Thai as well as points of contrast between western languages and Thai. She has her own syllabus, or she can let you take the lesson in the direction you wish.

To sum up, I must say I was fortunate to start learning Thai with Narisa – only thanks to previous glowing reviews of her work. I'll be happy if my review in turn helps someone else find their way to aajaan Narisa.
KT: A Complete beginner who wanted to start a business in Thailand after graduating from Harvard Business School.

I have been studying with Aajaan Narisa since March 2015. Three months from graduating Harvard Business School, I was planning to start Springtide, an investment fund focused on SMEs in Malaysia and Thailand. A working grasp of the Thai language would be essential, but finding the right teacher would not be easy. Firstly, languages have never been strong point for me. Secondly, I was travelling a lot and needed flexibility. Last but not least, I needed to learn not just everyday Thai, but also business phrases relevant to the work we were doing.

Aajaan Narisa turned out to be the perfect match. From the first lesson, it was evident that she was a talented educator with a true passion for teaching. She is patient, and actively creates a relaxes environment for the student to learn and make mistakes, but she never lets any mistake, even small ones, go unaddressed. This truly impressive attention to detail has given me confidence that I am starting with a good foundation.

I was also pleasantly surprised to find that her lessons, delivered through Skype Voice Chat and working with a Google Doc 'whiteboard' worked perfectly for me. Not only was it a very effective way to teach and store individual lessons, her use of technology allowed me take lessons from any country, saving time travelling to a teaching center as well. Today, whenever I want to revise a lesson, I can pull it up from anywhere, even on my mobile phone when stuck in traffic. Fantastic.

Lastly, I have to commend Aajaan Narisa for creating dynamic lesson plans that are relevant to the work I am doing. It would be easy to work off preset lessons (which we do sometimes!), but from the start, she emphasized speaking about everyday issues I am facing with my work. Particularly for business Thai, I have found her very quick to understand the more nuanced aspects of what we have to communicate as investors and operators, and to teach me the right phrases for the specific situation.

I have been a happy client for 2 years now, and for all the reasons above, would wholeheartedly recommend Aajaan Narisa.
Elliott Hoel: A Half Thai-American Harvard medical student aiming to communicate with the Thai relatives and later work as a doctor in Thailand.

I have studied Thai with Ajarn Narisa for over 5 years now and have had such a wonderful experience learning with her that I plan to continue my lessons indefinitely. I am half-Thai, was born in Thailand, and lived in Thailand until I moved to the US at the age of 12. I never learned how to read or write Thai, and, after moving to the US, my speaking and listening skills deteriorated with disuse. I am now working on correcting all this with Ajarn Narisa.

There were two things that were very important to me when I was initially looking for a Thai teacher: First, as a medical student at Harvard, I needed a teacher who could accommodate an unpredictable schedule. Second, having grown up speaking Thai, I needed a teacher who was capable of teaching more advanced levels of Thai. Ajarn Narisa fit the bill perfectly: She has a very generous cancellation policy and has tailored each of her lessons to fit my needs with great skill. During a typical lesson we practice conversation, reading, and writing about topics of interest to me. Any word or sentiment I don't understand is dissected in detail and entered into a shared spreadsheet where I practice using it in sentences. Any homework, if I have time to complete it, is also done and corrected through the spreadsheet. Ajarn Narisa's methods have worked very well for me and my Thai has improved immensely. I can now converse easily with my Thai aunts, uncles, and cousins when I go back to visit. I can also read basic articles and books. My mom, who is Thai, couldn't be happier. I cannot recommend Ajarn Narisa more.
Intermediate Level – Preparations for the Thai Permanent Residency Interview
Angela: A professional teacher from U.K. aimed to communicate in Thai at a better level and to pass the Thai Language Test for Permanent Residency at the Royal Thai Immigration in 2016. Congratulations! She passed!
Thai for Specific Purposes
Tracy Wells: Advanced Thai reading for writing/translating/researching about Thai traditional massage and medicine

https://doctorlib.info/herbal/thai-herbal-medicine/8.html

K.Narisa's teaching style is definitely unique because it's so personalized. For example, initially, K.Narisa had me take the Myers-Briggs personality test. After getting the understanding of what kind of learner I am, the lessons are then suited to what really works for me. Studying with K.Narisa in this way is definitely a different experience than studying in a one-size-fits-all classroom. And above all, I know that when I have a lesson with K. Narisa, I will get a few laughs in besides! (สนุกมากๆ) :-)

I have only great things to say about Khun Narisa and her teaching style. Before I studied with K. Narisa, I studied Thai in a classroom setting and learned the basics of reading, writing & speaking. However, I had very little confidence when speaking. Learning with K.Narisa via Skype allowed me to practice speaking in a safe, controlled environment and get all of those embarrassing mistakes out of the way in the privacy of my own home!

Also, since we use the chatbox, I get to practice typing in Thai. At first, it was painfully slow to hunt-and-peck all of those squiggly little lines that were hiding all over the keyboard, but K. Narisa is very patient and eventually, I improved.

I would definitely recommend K. Narisa to anyone looking to take their Thai to the next level.
Anthony: Thai Language for Tourists

I've been learning Thai using Skype with Narisa for about 14 months now. I hadn't heard of it until I saw Narisa's advert on a website and she mentioned it as a way to learn.

I'm glad I found it as a way to learn as it's so easy to use and the calls are free. Apart from the obvious time difference between the UK and Thailand there isn't a downside IMO. It's just like talking to someone in the UK on the phone. I just purchased a Skype headset, installed Skype, added Narisa as a contact and was ready to start learning straight away.

Currently I am learning twice a week. 1.5 hours speaking and 1 hour reading atm which I feel is enough for me. I used to do more but as my knowledge and speaking and understanding have increased I felt I didn't need to do as much.

Narisa is a very patient and methodical teacher who goes the extra mile in helping her students progress and reach their goals. As an experienced teacher, Narisa knows how to tailor her teaching methods to suit each individual student to gain the maximum results. She is able to communicate effectively with good English to help you understand and answer any questions you may have during lesson time which is essential.

I have embraced what Narisa has taught me so well and used my new found Thai speaking skills to communicate effectively when on trips to Thailand. It's a shame that Narisa isn't there to see my progress first hand whilst I am speaking with other Thai's, to see how much she has helped my progress in this challenging but beautiful language.
Language-School-Teachers.com
Some testimonials from Language-School-Teachers.com:
Romain: Thai Language for Business and Living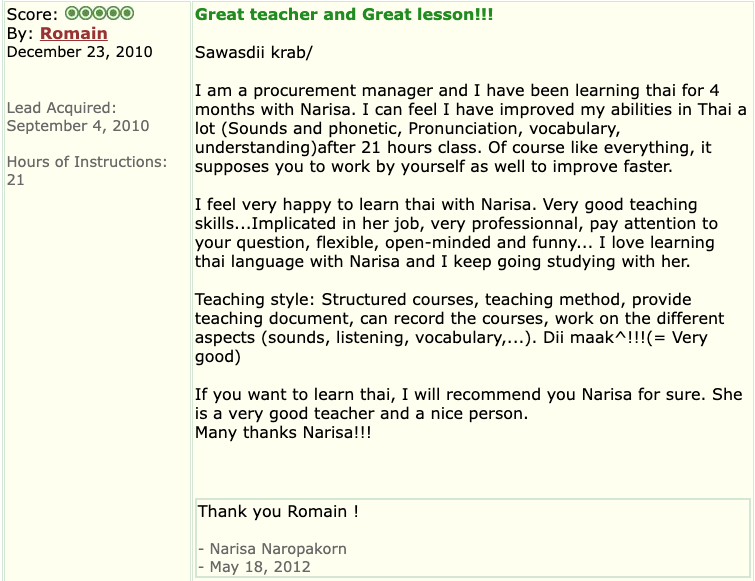 John: Thai Language for Tourists

Eric: Thai Language for Business
Bill: Thai Language for Older Learners and Living in Thailand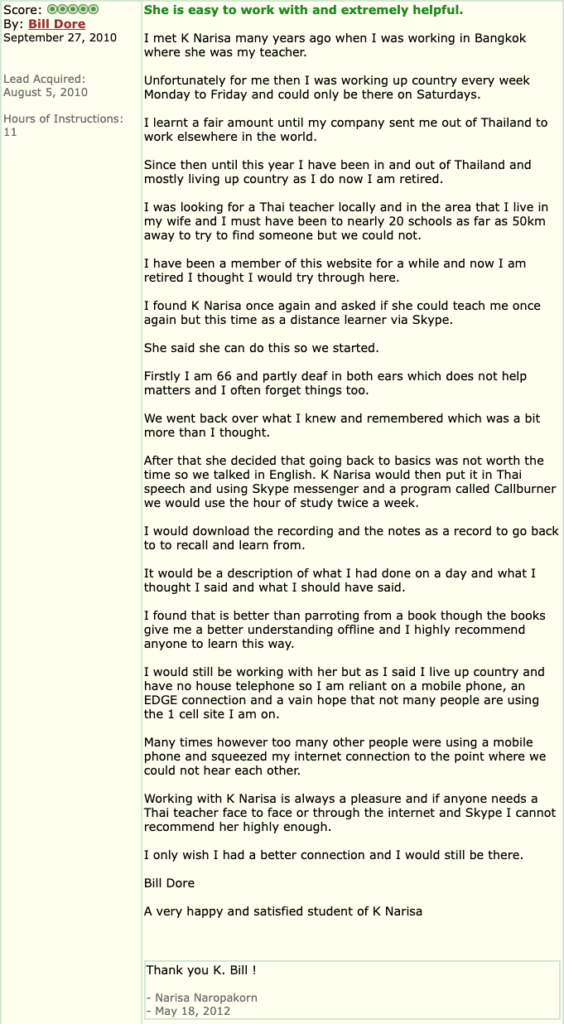 Jim: Thai Language for Traveling
Andrew: Thai Language for Living and Traveling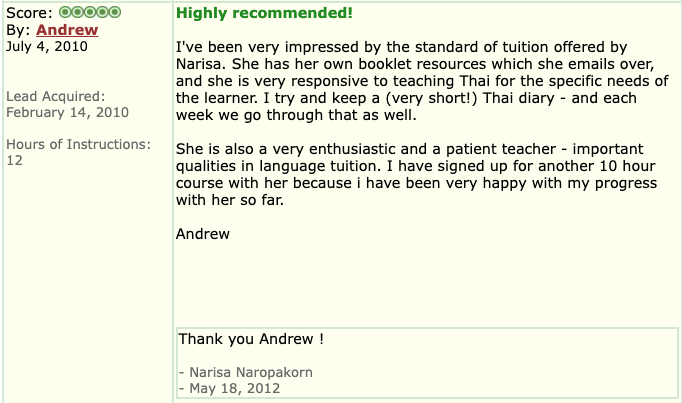 Dylan: Thai Language for Living and Traveling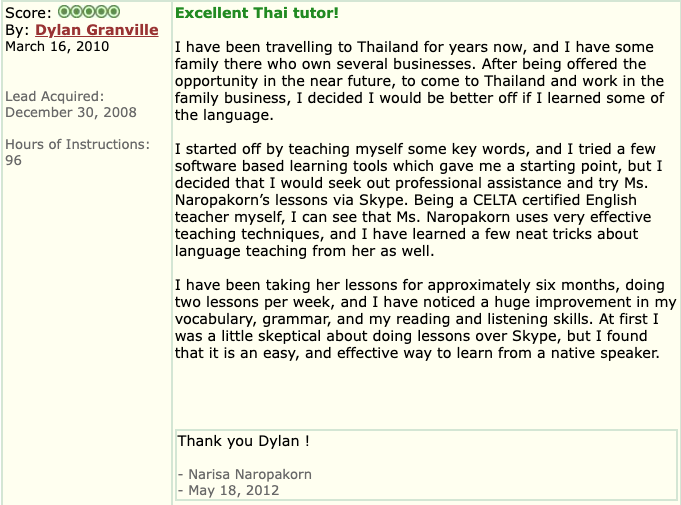 Adam: Thai Language for Traveling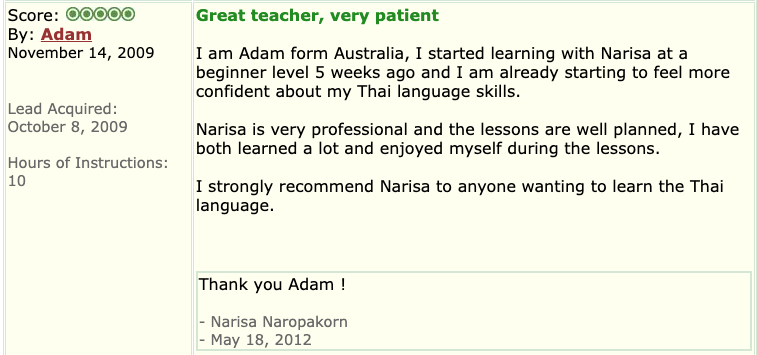 Dusty: Thai Language for Traveling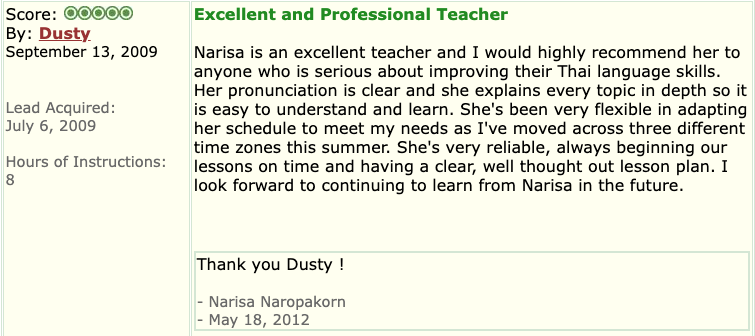 Colin: Thai Language for people with Thai Family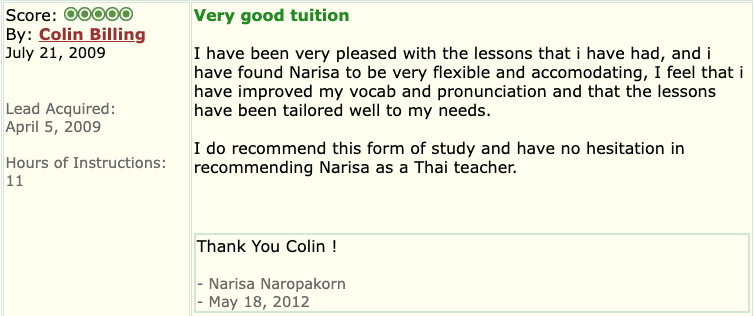 Tucker: Thai Language for Language Proficiency Tests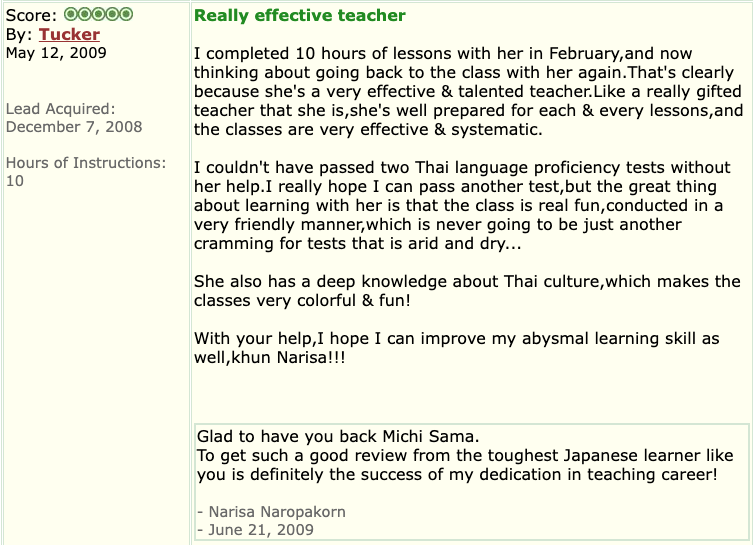 Roger : Thai Language for Traveling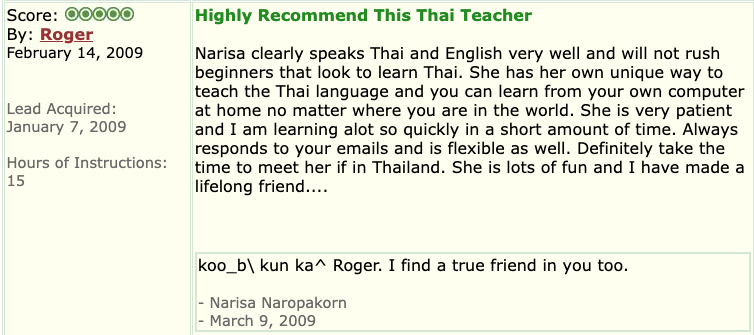 Anthony: Thai Language for Tourists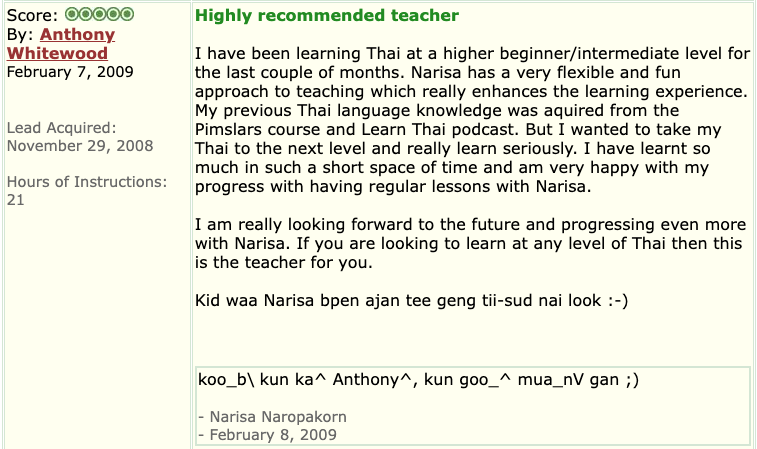 Timothy: Thai Language for Tourists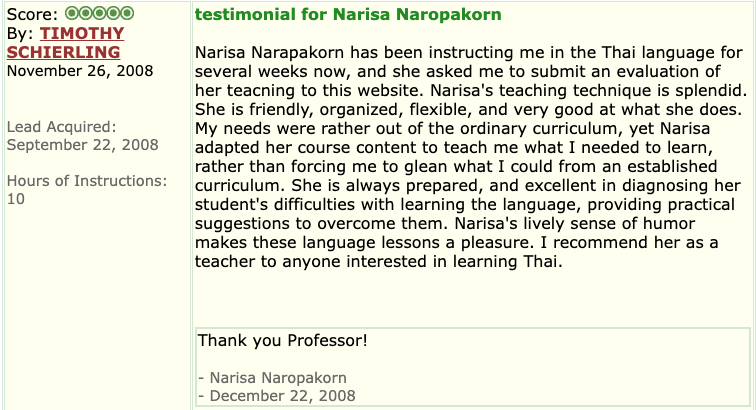 Dave: Thai Language for Tourists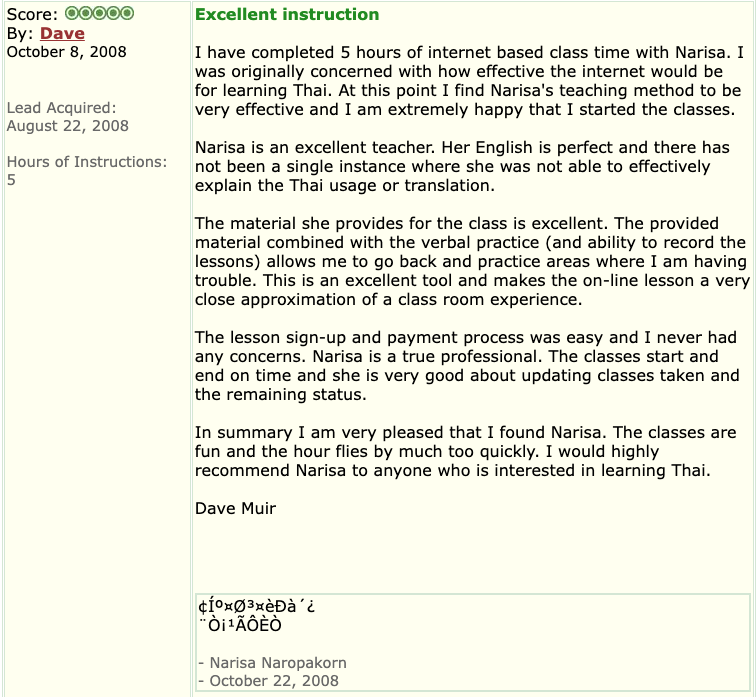 J Larose: Thai Language for Tourists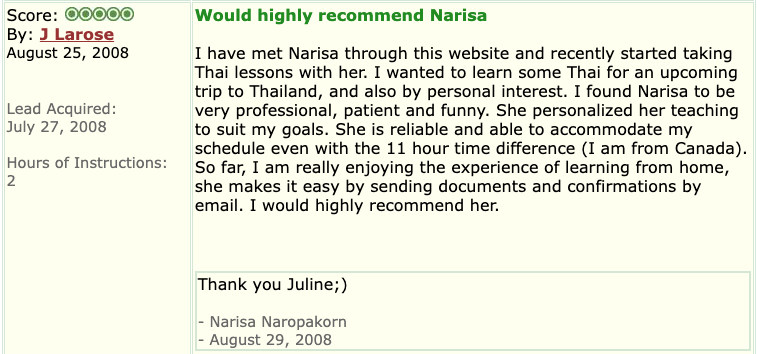 Justin: Thai Language for Tourists